Tylin Promotions, Mesa, AZ (Tylin) and the Arizona Center for the Blind and Visually Impaired, Inc., Phoenix, AZ (ACBVI) are proud to announce an alliance of services! Deaf Sensitivity Training classes by Tylin and Blind Sensitivity Training classes by ACBVI will be delivered jointly providing this vital training to communities across America. Tylin's nationwide contacts with public safety agencies will extend the reach of ACBVI's to every state in the U.S. This will further strengthen the impact that these training courses provide to communities.
The classes are mainly focused on the following, but not limited to, organizations such as:
Police, sheriff, corrections, courts, human resources of cities, towns and the federal government, hospitals, fire-medical EMT departments, schools, airports, financial institutions, shopping malls, utilities, supermarkets, libraries, and many more will be helped.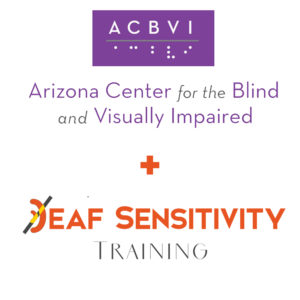 Sponsored workshops, classes, seminars and events are being scheduled to endure an educational journey towards building communication skills via understanding what the people who are Deaf or blind feel. "We'll be teaching those whose jobs are to protect the public. The special needs and inner needs of those who are Deaf or hard of hearing will be learned," said Fred Greenspan who heads of the organization, and who is hard of hearing himself and facilitates the majority of classes on Deaf sensitivity. Kristina Le of ACBVI leads the program for vision loss. Both Le and Greenspan have many years of experience in the education profession.
The Deaf sensitivity class is entitled I Never Gave THAT a Thought! The class on blind sensitivity is entitled I Didn't See THAT Coming.
The power of two key organizations joining forces is extremely beneficial towards promoting the classes locally and nationally. Public safety agencies such as police, sheriff, fire-medical departments and districts will benefit. Court and correction personnel, city and county departments such as human resources and airport as well as mass transit personnel have completed the training. The training classes are also formatted for those within the private sector such as security, hospitality, customer service and sales organizations.
Courses and Workshops are Being Organized Soon!
Plans of partnering up with other sensitivity training programs have already happened and are being made right as we speak. Stay tuned on Facebook and social media as we announce our next events.
For more information, call Fred Greenspan at Tylin at 480 615-8900.
Deaf Sensitivity Training Social Media
@Facebook: https://www.facebook.com/Deaf-Sensitivity-Training-117343532270011/
@Twitter: twitter.com/deafsensitivity
ACBVI Social Media
@Facebook: https://www.facebook.com/acbvi/